Start your journey to organisational culture change with our strengths assessment tools.
Start with the individual employee, then add in 360 feedback with the world first 360 degree strengths assessment.
Next, build on initial strengths discovery and embed across the organisation with our leading reports spanning teams, groups and leaders.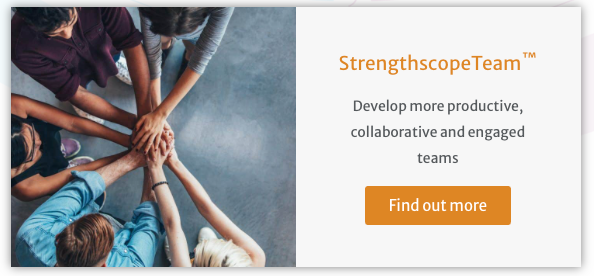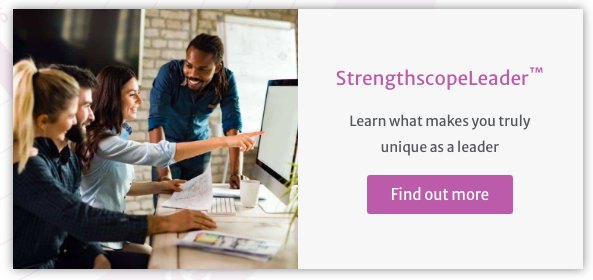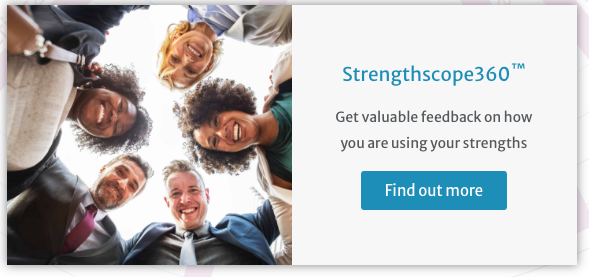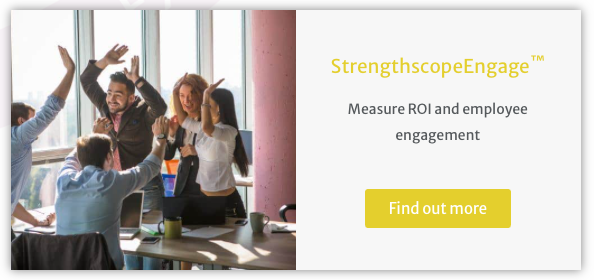 Strengthscope® is the only strengths assessment to have achieved Registered Test Status with the UK's British Psychological Society and is a unique set of strengths based assessment tests designed to be the initial step in helping employees discover and develop their strengths to improve performance and engagement at work.
Do you know the areas in which your employees excel? Are you engaging their skills to help them achieve their highest potential? Each member of your team is different, with a varied and unique range of talents.
Two members of your team may even have a very similar set of strengths but they may naturally use them in very different ways.
The Strengthscope® program is a strengths-based assessment tool that seeks to identify the core capabilities of employees and ensure each individual is utilising them in the correct manner and/or in the correct role, to develop both their personal performance levels and the collective output of the organisation.

Strengthscope is a world leading strengths assessment system. Strengthscope helps
individuals, teams and organisations build greater awareness of their strengths and how
these can be used to optimise performance and engagement in the workplace.
To learn more about what Strengthscope can do for you, your team or organisation,
please email us or call 1800 768 569 or outside Australia on 61 7 3103 0177
Or complete the form below to receive a Strengthscope Information Pack by email.
What is Strengthscope?

Good question and one that's asked a lot.
Strengthscope is all about the strengths of teams and team members. It asks a lot of questions and puts forward some very compelling arguments as to why, when and how we use our strengths at work.
"Oh please, not another personality test." You're saying it aren't you? Well actually, it's not. Strengthscope is different to personality tests because it identifies the things that strengthen and energise us. It doesn't go all alphabetical on you and label you with initials.If the people who've worked with the Strengthscope system of identification had to describe the takeouts here's what they'd say:
"I now know exactly what my strengths are (and there were a few surprises there)."
"Now I know what it takes to push my hot buttons and energise me."
"I now know what'll happen if I use my strengths too much or too little"
"I also know what the other people I work with think of how I use my strengths. I can work with that!"
Based on years of professional research and scientific modelling, Strengthscope has become a vital assessment tool for organisations that really get it when it comes to developing their teams that ultimately drive their performance.
Applications
Strengthscope has a wide variety of applications. Some of these are listed below: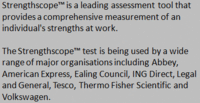 Performance management/improvement
Building an engaged workforce
Induction/orientation
Building productive relations/teambuilding
Talent development (inc succession)
Career development/transition
Organisation development
Leadership development
Selection
To support strengths-focused coaching applications
Strengscope Enquiry Form
Benefits
The main advantages of Strengthscope over other assessment tools measuring aspects of character, personal strengths and personality include: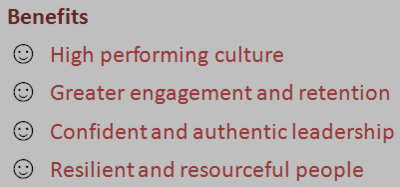 Taps into the heart of what energises and motivates people at work
Designed principally as a work based tool
It can be used for multiple purposes including hiring, development, retention, coaching, career transition, team development, and organisational change
Gathers multi-rater feedback from work colleagues and key persons outside of work on the extent to which the person's strengths are demonstrated through their actions
The language used is straightforward and free of jargon
It has been developed and validated in the UK
Powerful report on team strengths with a gap analysis of required vs. reported strengths and work environment factors which 'enable' or 'block' team members' from maximising their strengths
Cost effective, online administration
Backed by significant research
Using Strengthscope can deliver the following benefits:
Individuals
Ensures people get clarity on their natural strengths so they can realise their full potential
Playing to strengths improves effort, energy and confidence crucial for performance improvement
Helps people understand and minimise the impact of their weaknesses
Teams
Facilitates complementary partnering and collaborative working based on team members' strengths
Illuminates weaker areas where the team may have to invite external support
Encourages a positive, energised team environment
Builds appreciation of diversity and contributes to relationships of trust, openness and mutual respect
Organisation
Builds a culture of engagement and excellence
Promotes resilience and optimism, enabling faster and more effective change
Improves talent attraction, retention and development
The bottom line it improves performance, sustainable growth and competitive advantage

How to buy and use Strengthscope
Strengthscope can be purchased by contacting Talent Tools.

Once payment is received, individual IDs or a project ID will be allocated to you.

You then invite participants to complete the questionnaire at www.strengthscope.com.

The questionnaire will take around 35 minutes of your time to complete and should be completed in an environment with as few interruptions and distractions as possible.

We will monitor completion rates and remain on hand for any support required.

You can decide whether feedback reports should be sent to you or direct to participants, along with a debrief preparation questionnaire and an FAQs document to answer any immediate queries they may have.

You then arrange separately for participants' feedback sessions.
Strengthscope Accreditation Workshops
Our Accreditation Workshops enable you to process profiles and deliver feedback to employees/clients direct fromyour own Online Strengthscope Account.
This is not only cost-effective, it also embeds and 'internalises' the strengths-focused approach into the organisation. The accreditation also provides access to a growing range of additional support tools and guides.

View Our Certification Training Dates and Locations

To ensure certification is achieved by all participants only 8 places are available for each session. Reserve Your Place Now!
The Strengthscope Model
The Strengthscope model was constructed over an 18 month period, through exhaustive research into strengths, personality, preference, values, ability and positive psychology. From an initial pool of over 40 strengths, a final 22 were chosen for their reliability and validity as occupationally-relevant strengths. The final 22 were sub-divided into four 'clusters' of strength: Emotional, Relational, Thinking and Execution. Each Strengthscope strength is briefly defined in the table below:
Emotional Cluster

Strength

Definition

Courage
You take on challenges and face risks by standing up for what you believe
Empathy
You readily identify with other people's situations and can see things clearly from their perspective
Compassion
You demonstrate a deep and genuine concern for the well-being and welfare of others
Self- Confidence
You have a strong belief in yourself and your abilities to accomplish tasks and goals
Emotional control
You are aware of your emotional 'triggers' and how to control these to ensure you remain calm and productive
Resilience
You deal effectively with setbacks and enjoy overcoming difficult challenges

Rational Cluster


Strength

Definition

Collaboration
You work cooperatively with others to overcome conflict and built towards a common goal
Developing Others
You promote other people's learning and development to help them achieve their goals and fulfil their potential
Persuasiveness
You are able to win agreement and support for a position or desired outcome
Relationship Building
You take steps to build networks of contacts and act as a 'hub' between people that you know
Leading
You take responsibility for influencing and motivating others to contribute to the goals/success of their team/organisation
Thinking Cluster

Strength

Definition

Creativitity
You come up with new ideas and original solutions to move things forward
Strategic Mindedness
You focus on the future and take a strategic perspective on issues and challenges
Critical Thinking
You approach problems and arguments by breaking them down systematically and evaluating them objectively
Common Sense
You make pragmatic judgments based on practical thinking and previous experience
Detail Orientation
You pay attention to detail in order to produce high quality output, no matter what the pressures
| | Emotional Cluster |
| --- | --- |
| Strength | Definition |
| Initiative | You take independent action to make things happen and achieve goals |
| Results-focus | You maintain a strong sense of focus on results, driving tasks and projects to completion |
| Efficiency | You take a well-ordered and methodical approach to tasks to achieve planned outcomes |
| Flexibility | You remain adaptable and flexible in the face of unfamiliar or changing situations |
| Decisiveness | You make quick, confident, and clear decisions, even when faced with limited information |
| Self-Improvement | You draw on a wide range of people and resources in the pursuit of self-development and learning |
Want to know more about Strengthscope?
Strengthscope Enquiry Form
| | |
| --- | --- |
| First Name* | |
| Last Name | |
| Organisation | |
| Email Address* | |
| Please re-enter your email | |
| Phone Number | |
| Mobile Number | |
| I would like to find out more about the | |
| | |
| * = required | |


To Purchase Strengthscope Reports . . .
Simply call Talent Tools on 1800 768 569 or outside Australia on 61 7 3103 0177 or email us, and we will provide you with IDs to access the online questionnaire.
Testimonials and Clients
On the difference Strengthscope has made to our clients' organisations...
"The combination of coaching focused on building strengths has produced the most significant improvements that I have seen from a candidate on a management development programme".
Frank Wilson, Director of Individual Sales, RAC
"At Aviva, our approach to talent management is all inclusive. We believe that each and every one of our employees has talent and that development plans should be tailored to individual needs. Strengthscope is proving to be an extremely effective way of enabling our future leaders to understand where their skills really lie and how to capitalise upon them".
Aviva's Director of Group Management Development
"It is an excellent developmental tool - it starts with the positives of 'now' and can then be used to focus on future development, using present strengths to help this development. It has also allowed employees to look outside their present role and consider future roles in relation to their strength profile. Everyone left the sessions feeling very positive about themselves and their ability to develop further. They have also openly stated how useful it has been."
Mike Yellow, Learning and Development Manager, Thermo Fisher Scientific
On Strengthscope...
"Although I am very familiar with my strengths, I had not previously considered them in terms of those that really drive and inspire me. I discovered a new and very important perspective on which of my strengths I need to use to maximise my energy and motivation."
"In all cases, it has 'lifted' and motivated the individual, focused on what energises them, has given them an insight to potential routes for Personal Development Planning and in two cases, the client would like to explore the use of Strengthscope further within their own teams."
"Very positive, very well received indeed I have used as part of a confidence building away day for staff to reflect upon how they can use their strengths to overcome some of their development areas and how they can use them to fulfil the forthcoming business objectives within their organisation"
On our accreditation training and trainers...
"The accreditation day was exceptional in giving practical experience of feeding back and receiving feedback on Strengthscope as well as learning more about the strengths-focused approach. The training gives a much deeper understanding of the tool and the best techniques for a positive and purposeful exploration of strengths."
"Very positive and useful day"
"Excellent workshop"
"Very engaging; depth of knowledge; responded to group; thought provoking"
Some Strengthscope Clients
Current users of Strengthscope include:
Abbey
Allen and Overy
American Express
Aviva
Drivetech
Ealing Council
Fish4
HBOS
IKEA
Institute for Employment Studies
Orange
Panasonic
Parsons Brinckerhoff
Siemens
ThermoFisher
Volkswagen.
Strengthscope - the the world's leading workplace strengths assessment tools.
Enabling individuals, teams and organisations to optimise performance and engagement at work.