Easy Online Performance Management System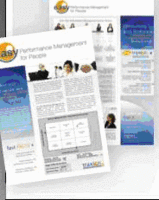 Easy Performance Management
A Vital Factor in Surviving and Thriving In These Economic Times Is Employee Recognition and Performance Improvement. Save Time and Money Developing, Motivating, and Retaining Your Valuable Staff Members ...
Easy Pereformance Management is a flexible and secure system that is simple enough for those seeking a basic performance appraisal program yet powerful enough for those desiring advanced features.
Secure online hosting permits worldwide employee access
Appraisals are short, simple, and can be completed ina few clicks
Goals, action steps, and progress notes are easily created
Built in e-mail notification provides appraisal reminders
Comment coaching offers feedback suggestions
Automatic language check identifies offensive or disriminatory language
Manager's resources provide appraisal, goal, comments, and corrective actions tips


The Most Powerful, Complete and User-Friendly performance Appraisal Solution Yet
Create your own performance competencies
Develop employees by using the goal setting module
Employees identify strengths and weaknesses in their own performance
Comment coaching tools provide feedback suggestions
Route appraisals and forms to HR or other managers
Keep informal performance notes, complete customised forms, and access appraisal histories all from on convenient location
To arrange a free, no obligation demonstration and trial, simply email or phone the team at Talent Tools on 61 7 3103 0177 .