Extended DISC Newsletter August 2011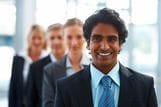 Greetings
There are times when one wonders how well people really understand themselves. This month's case study relates to a situation we experienced just a couple of days ago, and is a good example of someone who is going through quite a change in her life. Her initial reaction to her Personal Analysis Report was negative until she realised the report accurately described her true behavioural style. Read more...
Our Work Pair Analysis Report is a very powerful tool. It's easy to use and very cost effective. It is no wonder that it is so widely utilised. Work Pair Analysis is designed to provide information that allows two individuals to take action that will have a positive impact on their performance. In this month's newsletter we look at the Work Pair Analysis Report and its uses. Read more...
The NEW Extended DISC Online Platform
We have commenced our testing on the NEW Extended DISC online platform and have listed just a few of the features that are going to be available when the product is launched later in the year. The flexibility of the new system is amazing….
Some features are:
Unlimited flexibility in format and content
Select from thousands of behavioural competencies or create your own Competencies
Design your own templates, branding, style, graphics and colour
Increase and create your own additional questionnaire/s
Define your needs and let us design to your "wish list"
Select and design your own scales, question types, multiple choices
Combine reports into multi-tool reports – Personal Analysis and ReasoningAnalysis, perhaps Open 360 etc
Benchmarking – internal and global
Design your own Team Report and play with results on screen
More to come over the next few months…..
September 2011 Webinar – Caution Areas in Profile Interpretation
Presented by Saffi Curran
When interpreting Personal Analysis Reports Profiles it is important to recognise any caution areas. These can be tight profiles, ascending or descending profiles, mirror profiles and stress indicators. In this webinar we look at examples of these caution areas and what they can mean to the individual and their employer.
This webinar is on 15 September 2011 at 3.00pm NZ time. To learn more about Profile Interpretation register now!
To find out more about Extended DISC and how it can help you grow or improve your business, please contact us at Talent Tools - 1800 768 569

If at any time you cannot contact us at Talent Tools 07 3103 0177 | Skype: Talent,Tools | team@talenttools.com.au
please call our Support Line: 1800 254 094 where Saffi or Jessica will assist you.

We look forward to hearing from you!
Author:
EDA & Talent Tools