Extended DISC Newsletter September 2011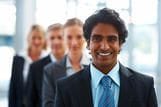 Greetings
The subject of "unreliable" or "invalid" reports has been discussed regularly in past FactSheets but a recent experience has prompted me to again look at this subject.
A unique feature of Extended DISC reporting is the ability to identify reports that are suspect and reports that are unreliable, and we have a very good example of such a case in this month's newsletter... read more!

There seems to be a growing interest in the Extended DISC Open and Performance 360 degree Reports, so we have featured this as our "product of the month". The flexibility of our Open 360 tool has proved to be popular with HR professionals... read more!
October 2011 Webinar – Research Module
Presented by Saffi Curran
Research Module is an Add-On Feature to Personal Analysis Questionnaire. EDOS allows you to create additional questions for respondents to answer while they are completing the Extended DISC Personal Analysis.

In this webinar we look at ways to use the Research Module, how to create a Research Module and its cost.

This webinar is on 20 October 2011 at 1.00pm Au EST. To learn more about Extended DISC Research Module register now!
Author:
EDA & Talent Tools