You probably know that no one owns "DISC". It is a theory that was originally developed in 1928. Extended DISC is a relatively new-commer to the DISC market, launched in the mid 1990's. Talent Tools has been a world-wide provider of Extended DISC products, now inlcuding the recently launched state of the art, FinxS System since 2014. So many of our clients are former old DISC users.
Typically perspective clients tells us that:
They liked the simplicity of the DISC model because their participants can learn it and apply it comfortably.
The old DISC tools lack the depth they need for many applications
The old DISC tare perceived by some participants as too general or "weak" so they preferred more robust tools such as MBTI
MBTI is not user-friendly in the workplace
They wished DISC could do more
Extended DISC provides the best of both worlds: the user-friendliness of the DISC model and the power of tools like MBTI that measure persons' "hard-wired" style and not what they think they need to be, to be successful at the moment..
Extended DISC measures who the individuals really are, not who they want to be.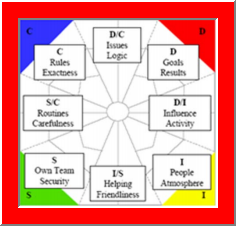 Also, Extended DISC allows you to:
Tailor the assessments to best fit every application, from recruitment, to simple one hour training sessions to comprehensive organisational development or change initiatives
Customise the reports for corporate branding and purpose

choose the results you want to appear in the report
include workbookls and tutorials
generate different report content (on the same person or group of individuals) for different stakeholders

provide the most relevant and user-friendly reports for your participants.

Maintain a databse of reports that are specific to roles (examples: Executives, Managers, Salespeople, Customer service representatives, Team Members, Engineers...
Create Pair, Team, Department, Division and even Organisational Assessments without having to ask employees to complete another questionnaire.