Outplacement: Down but not out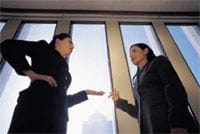 Outplacement: Down but not out
Source: HC Magazine http://www.hcamag.com/features/33537/details.aspx accessed 16 March 2009
If you want proof that very few people predicted the current global economic downturn, look no further than the March 2008 survey by Towers Perrin (2008 Business and Workforce Challenges). The survey reported that broad layoffs were not likely and organisations were focusing on growth. Now, almost a year down the track, the facts paint a gloomy picture. Without question, layoffs are on the rise. Consider the following:
• Layoff announcements rose 48% for the third quarter of 2008 compared to the same quarter last year (US Bureau of Labor Statistics).
• 37% of Americans fear losing their job due to poor economic conditions (America at Work, Employment Law Alliance, September 2008).
• Three million workers in the UK fear losing their job in 2009, and 13% of surveyed workers did not believe that they would still be working by November 2009 (Trades Union Congress, August, 2008).
• Closer to home, 72% of workers in Australia fear losing their jobs after recent large redundancies (Sunday Mail Survey, Galaxy Research, August 2008)
Moreover, research indicates layoffs are widespread and will affect a cross-section of the general population.
Back in vogue

After a quiet few years, the services of outplacement or career transition advisors are back in demand, says Bruce Anderson, managing director, Lee Hecht Harrison. "The growth in outplacement demand began in financial services, particularly those with US head offices, though more recently staff reductions are commonplace across the majority of industries," he explains.
HR also needs a helping hand in tough times. While HR's focus is naturally on ensuring business continuity and supporting line managers through change processes, outplacement service providers can provide much-needed assistance. "The exit of people from an organisation is often only one part of the change. There could be restructuring going on, there could be shifting of responsibilities and new teams being created. HR will have many other things they are concerned about, so I see us as supporting HR to look after their people in a time of crisis," says Geoff Officer, managing director of The Donington Group.
Outplacement services can also provide objectivity in what is often a fraught and tense situation whereas HR, because it represents the organisation to the individual, can't always be seen to be objective.

Who benefits?
At the heart of outplacement lies a risk-management strategy - it's a way to safeguard, as much as possible, the company brand and reputation.
"The values and strengths of organisations and their leaders are often best viewed in difficult times, and periods of restructuring and managing redundancies are significantly difficult," says Anderson. "Utilising the services of an outplacement provider protects and builds the reputation of the employer at this stressful time and also allows the management to focus upon the ongoing business rather than the departing staff."
Officer notes there are two aspects of outsourcing: one aspect is for the employees left behind - preparing the managers, and ensuring everyone knows that those colleagues who are leaving will be looked after. "When people know that their colleagues have been looked after, they will feel better about the organisation," he says.
The other aspect, of course, is the support provided to those who are leaving. All-inclusive outplacement will consider two key elements for these people. Firstly, the adaptive challenge that every individual faces. A redundancy is something no one plans for, and it's a change that brings about shock and requires significant personal adjustment. Acknowledging this change needs to occur before the individual can start thinking about where they move to next.
The loss of a job ranks up there with the death of a spouse or other high profile life changes such as divorce. The emotions are exactly the same - anger, disbelief, shock and a sense of loss. People deal with unexpected change in various ways. Some people may be quite matter-of-fact and just want to move on, and others will get caught up thinking, 'why did this happen to me?' There are also those who
have a retribution response and want to 'get back' at the organisation.
"There is a grieving cycle to every job loss - even those who are coming out with a big package and perhaps wanted it anyway. We use reality counselling - helping people address the reality of the situation. We're helping people adjust to the realities of their change, and then giving them tools to move forward," Officer explains.
The second element of outplacement is the technical side, which includes fine tuning résumés, job interview training, networking, and dealing with recruitment consultants.
"The core of outplacement services involves the individual being assisted through a process of deciding upon their preferred next role/employer/industry, creating a resume that reflects career achievements to support their ambition, identifying a plan to obtain their preferred role, enhancing interview skills and building resilience to adhere to the plan," Anderson explains.
Outplacement providers help individuals to reflect about themselves: where they are, who they are, what their strengths are. Individuals are also shown how to approach the job market. "They are effectively marketing themselves, and some people haven't done that for a long time so we give them advice on how to handle the job market today," says Bridget Beattie, the regional general manager of Right Management Australia/New Zealand. "We can also help them understand that this might be a time to acquire new skills or move into a different industry sector."
Beattie cites the 2001/02 'tech wreck', when many people moved out of IT and into other sectors. "We help people identify what their transportable skills are. Someone might be a strong communicator - that can apply across a lot of different sectors and jobs," she says.

Communication and training
The two most important elements of downsizing are communication and ensuring that managers can deal with the situation well. Most outplacement service providers will be present on-site on the day announcements are made, but the responsibility usually remains with the managers.
"You must get all your managers on the same page so there is no sense of a wedge being driven between management and employees - there needs to be a consistent message. When managers tell people why this has to be done, it must be consistently done in every circumstance so people get a sense of 'that's the truth' - because people will always ask: 'what did your manager say to you?'" says Officer.
In terms of the actual notification process, Beattie advises managers not to go into big justifications or rationales, because that's not what people want to hear. "It's about giving people the critical information they need in this situation: when will they leave, how much money will they get, what kind of support will be offered to them and what happens next. A manager's reaction is often to justify and explain why people are going. That may be useful later - it's certainly useful for the people who are staying - but it's not going to be appreciated by the people who are going," she says.
Communication is also vital throughout the process, and Beattie emphasises you cannot do too much of it. "Even if you say that you don't have any new information about the changes but you expect something in a week - that's better than nothing. Otherwise the rumour mill will invent things and people will anticipate the worst. Other people will put their heads in the sand," she says.

Avoid the legal tangle
Legal ramifications often come into play if people discover they were being selected for the wrong reasons - in other words, if the reason provided by management is 'cost cutting' it must be only by cost cutting. "If jobs are made redundant and people are selected for other reasons - for example, their personality or 'removing dead wood' - that immediately creates legal issues. You can't use redundancy as a way of dealing with poor performance," Officer warns.
Beattie notes that employers should consult workplace lawyers before taking action. Even though there are different laws in different jurisdictions, if there's an award, contract or company policy that provides for a redundancy process it must be followed. "That all varies from one organisation to the next but you simply can't discriminate. The usual rules around termination apply," she says.

Those left behind

Outplacement service providers are ready to step in at a moment's notice, either for the 'pointy end' of redundancies - the communication and conversations with staff - or earlier in the planning stages. "We get called in at every stage," says Beattie. "Some of our clients call us in quite early and we help with the change management, the structure design, and so on. In other cases we're brought in after the decision has been made and the organisation wants to notify people in two to three days. Often it's quite late in the day, but that's often because the client has had no notice themselves - they've been told by an offshore head office that they have to do this."
In many instances, outplacement service providers are engaged to help rebuild morale and assist managers to manage their teams in the weeks following layoffs. Officer notes that following the 1991 downturn when there was large scale downsizing, many organisations (and managers) were exhausted and didn't want any more programs. Yet the need for a business to remain viable continues - and often it will look completely different than it did originally. "In some cases the organisation will spend a lot of money on the people who are leaving, which makes the people who are left behind feel resentful because they have to do all the work. 'I'm still here, why wasn't I offered the chance to go?' they might think. It raises all those inequities," he says.
Workforce planning will come to the fore, and Beattie notes that the companies that downsize will be better placed when the business cycle picks up again. These companies will also ensure they keep the right talent. "Some companies will provide voluntary severance, which gives people a lot more control - and control is something people who've been made redundant struggle with the most. As long as the company is making sure they're matching their business needs to the skills that are left in the business, that can be a good option," she says.

Eye on the long term
Many employers were burnt by the reactions they received following the 1991 wave of redundancies, since people who are treated badly during their redundancy have long memories. When things started to improve, those who were made redundant in 1991 were more selective when it came to choosing an employer - and they encouraged others to do the same.
"Australia is a small marketplace and it doesn't take long to hurt your reputation. I can think of a few examples after '91 where there were companies who were suffering, but missed out on good employees because of the way they handled the exits in 1991. There's a good phrase, 'the way you let people go is the way they'll behave'. If you treat people with dignity and respect, they'll behave with dignity and respect. If you treat people unfairly, they'll behave badly when they deal with you in the future. We're providing hope that there is a future, that there is life after this kind of [economic downturn]," Officer says.
Anderson warns that organisations should review all costs alongside their staffing costs. The alternatives to reducing staff costs include freezing new appointments, increasing redeployment, encouraging leave without pay, part-time work and enforcing the use of accrued annual leave. "Redundancies should not be viewed as a simple 'cure all' as they do have a significant effect on all employees and staff morale," he adds.
Surprisingly, there can be a bright side to a redundancy. For some it can be the impetus they were looking for, the spark to move them onto bigger and better things. "The difficulty comes when you're in an economic downturn and the next role is harder to secure or it takes longer to secure. You must remain positive that there are jobs out there," Officer concludes.

History repeating?
What's different about this economic downturn? Bridget Beattie of Right Management provides some clues:
1. This is fast and furious, faster than we've ever seen before. Employers are being forced to get in and downsize quickly, so their planning and implementation times are shorter.
2. Because this hasn't happened for a long time we have inexperienced managers. Gen X managers making Baby Boomers, Gen X and Gen Y people redundant is always going to be tough. We're spending quite a bit of time with these managers - and they might be gung-ho until they've had a few meetings.
3. There will probably be multiple rounds. Employers are doing the first round now and hoping it's enough, but there are a couple of our clients that will have to make another move in the first or second half of 2009.

The consultative approach: Avoiding litigation
The vast majority of organisations in Australia are failing to properly consult with their employees when enacting redundancies, leaving themselves open to potential litigation.
Shana Schreier-Joffe, partner at Harmers Workplace Lawyers, says that while redundancies are by their nature fraught with difficulties, genuine consultation can have a significant effect on the outcome for the individuals involved, their managers, their co-workers and the business itself.
"Under the new IR laws and modern awards system just introduced to Federal Parliament, consultation will be far more important in more workplaces. Employers now need to realise that redundancies should not be announced out of the blue without any real consultative process," she says.
By law, consultation must occur when making large scales redundancies if employees are union members or are governed by an industrial instrument such as an applicable Notional Agreement Preserving State Awards (NAPSA) or collective agreement which requires consultation. However, Schreier-Joffe argues that all companies should be undertaking proper consultation as a risk-mitigation approach, whether they are legally obliged to or not.
"In my experience, I'd say as many as seven or eight out of 10 organisations in Australia do not consult properly with the affected employee/s when making redundancies. In reality, redundancies usually happen very quickly and employees don't have the chance to properly understand the reasons behind the decision. In addition, employees often have no opportunity to question the decision or suggest a new role that might be created for them.
"If employees walk in one morning thinking it's an ordinary work day and by mid-afternoon they're being walked off the premises, their initial shock and disbelief can quickly turn to anger and a feeling of ill-treatment. This may result in them wanting to take action," she says.
Schreier-Joffe argues that genuine consultation, done properly, provides the following benefits:
• The individual/s made redundant cope better with the news, as they understand the business rationale behind the decision and are given the chance to suggest possible alternative solutions
• The risk of litigation is minimised, as obligations are met and the process will most likely lead to a better feeling towards the company by the exiting employee, therefore less ill-will and motivation for claims
• Managers who have the job of informing individuals of their redundancies feel more positive about the treatment of the individual, helping them feel less stressed by the process
• Colleagues feel better about the actions of the employer, and remain supportive of the organisation and more secure and engaged in their own role
• The company's reputation remains intact, since it appears to be acting in the best interests of all of its employees.