Punctum - A game for expanding your view
Written on the 26 July 2014
Punctum uses colorful and stunning photos, life topics and powerful questions to create a playful atmosphere of learning and development.
The game plays on the relationship between photos, words and questions and how they relate to the players/team/clients regarding a specific personal or professional issue. Endless activities focus on creating a unique opportunity to pause for a moment, examine your perspective and explore new angles.
In Punctum there are no winners or losers, no points and no competition - just realisations and creativity!
With photo therapy principles guiding the selection of beautiful photos from amateur photographers around the world, each photo card is open to a world of interpretations. Spread them out face up/down or guide your client to select randomly.
Watch your client interact and experience how these cards are a powerful reflective tool.
Punctum includes: 33 Photo Cards 33 Word Cards 33 Question Cards An Observation Card Layout process chart User guide
Free online support, articles, ideas and training on how to implement and customise Punctum according to your needs.

Suitable for working one-on-one or with a group Can easily be adapted for any audience, content or working method.

A tangible, visual, and impressive tool that helps illustrate abstract ideas and put across your messages clearly.

Makes personal development a surprising, inspiring and creative experience.

A hands-on tool that goes beyond talking and bypass logic Makes it possible to touch on significant issues in an effective and non-confrontational manner.

Points of You creates hands-on to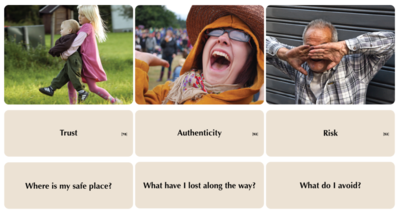 ols for personal and professional development. These games are an asset to the professional toolkit. They can be used by all ages for any content or learning method. Educators, team leaders, coaches, psychologists, social workers, workshop facilitators and more love these tools.

Ideal for identifying habits and examining workplace/home/school etc dilemmas from new perspectives.
Points of You™ tools offer everyone an opportunity to:
Pause: Take a time-out to check in with yourself, your team or clients.

Expand: In every situation, there are countless points of view. The challenge is to observe life and various issues from a different perspective.

Connect: Communicate in an authentic, intimate & non-judgemental manner with family, friends, employees & clients... but most importantly, with yourself.

Focus: Formulate new insights & define actions for the future.