Unique Features and Benefits of Extended DISC
Written on the 23 July 2014
We provide Information You Need and we help you use it!
Extended DISC is the leader in understanding how information about people can generate business value to our clients. Talent Tools is an Accreditation Body and wholesale distributor of Extended DISC products, we service each client with individuality and tailor our approach, services and products to reflect your needs and your brand.
How Extended DISC differs from other DISC based products
We often have to field the comment "Oh yes, we know DISC. It is a simple program," and of course, the obvious conclusion from that is that it will be "cheap and cheerful" as indeed some are!
The four quadrant model was originally developed in 1928 by William Moulton Marston and no- one owns the DISC brand. That is why so companies, and individuals, have created their own proprietary DISC assessments -- and also accounts for the vast differences in product validity and reliability.
One of the main reasons DISC assessments and DISC profiles are widely used around the world is because DISC theory is easy to understand, and it is easy to identify the different styles because there are only four basic behavioural styles to learn and remember.
There is a common belief that DISC tools lack the depth needed for many applications and this is a fair criticism, as most do only recognise and report on the four styles, a few on eight and even Myers Briggs only recognises and reports on sixteen. This leaves practitioners operating with blunt instruments.
Extended DISC identifies and reports, in-depth, on 160 different behavioural styles (40 in each of the four quadrants) which sets the Extended DISC System apart from competitors.


Extended DISC uses the four quadrant model as a basis for the 160 different styles it recognises and measures. It is important to understand that this is simply a framework for a much deeper and more meaningful reporting structure.
But there are many other important distinguishing features that can't be matched by other four quadrant models:
Other DISC products ask the candidate about how they see themselves in their current work role and/or the questionnaire asks specific questions, sometimes requiring a "yes" or "no" choice. As a result the report focuses on the conscious behavioural style, and of course, this will vary depending on the environment at the time of answering.
The Extended DISC questionnaire asks the candidate to imagine describing themselves at work when answering and asks what is "Least" like them and what is "Most" like them. The "Least" questions are the most difficult to answer and this requires the candidate to think more deeply about their actual behaviour and therefore produces a report that shows who the individual actually is (their unconscious behavioural style) and not what they believe they need to be in the current answering scenario or environment.
The Extended DISC questionnaire is very difficult to manipulate and the system recognises inconsistent or random answering. It will not generate (nor charge for) a report that has an indication of confused or unreliable answers. This feature is unique to Extended DISC while others produce a report regardless of an answering pattern and reliability.
Extended DISC's adaptive FinxS Online Platform enables clients to produce tailored focused reports and not rely on "off the shelf" reports as promoted by competitors.

Many Extended DISC competitors have an array of reports available, but by using the Extended DISC FinxS platform, you can choose from over 1200 different competencies, very much customising focusing reports, in both format and content. Sometimes, you need one report for the respondent, different information for a recruiter and then different focus for the employee's supervisor. YOU CAN HAVE IT ALL.
Design different reports for different stakeholder needs - at no extra cost!
Include photos logos, values, mission statements (or whatever...) even add a work-book for training participants. A recruitment report becomes an on-boarding and then development tool, branded with your own colours, look and feel.
Your FinxS reports can be specific to different roles, understanding, for example, the different competencies required in a sales role for a successful real estate agent as distinct to a computer salesperson, or again a car salesman.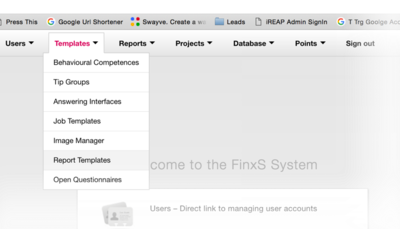 Best of all, once a behavioural report has been produced, any number of additional reports can be generated for the same individual at no additional cost. It could be that a candidate applies for a sales role, but during the interview process some leadership behaviours become apparent. A second report focusing on leadership or even a third report focusing on management competencies can be generated, 2 years down the track. No cost.

Team, Multi-person, Couples or Work Pair reports are available - no cost, providing each team member has produced a behavioural report

Amongst a number additional features, you are provided with admin access to the FinxS server 24/7 and can select any number competencies they want to relate to the candidate, and view them online through "Open Preview" without printing a report.
One of the many great features of adaptive FinxS, is its ability to add content to behavioural reports through Report Designer. This allows you to create focused reports for themselves and/or your employees and/or clients.

Our FinxS Report Designer has a number of options for the user to select from including different graphics, job templates, insert data fields and competencies. Some of the other report designing options including adding images, text boxes, additional pages and workbooks.

Make a time for a Team Talent Tools Consultant to show you how to use the report designer's many options so you can create reports that are just right for you and/or your clients.
Among many other benefits are
Better hiring decisions
Reduces staff turnover
Higher productivity
Better use of individual strengths
Enhanced communication
Better sales results
More efficient team work
More effective organisation
Better management decisions
Better business plans
Better business results!
Unique Features
Extended DISC measures emotions
More behavioral styles than in any other instrument
Extended DISC is difficult to cheat
More stable results than with any other instrument
Measures the individual both on unconscious AND conscious levels
Extended DISC not only assesses, but also helps the individual with developmental suggestions
Extended DISC text bank is significantly larger than competitors'
Extended DISC Reports are easy to obtain
Available in several languages
Extended DISC® Diamond
Extended DISC® Assessment System

Read more about how our assessments and reporting tools stand out from other DISC based products
To find how Extended DISC can improve your business or organisations outcomes,
contact Talent Tools now!

1800 768 569 | 61 7 3103 0177 | email us - Team@TalentTools.com.au