What Energises You at Work?
Written on the 14 August 2015 by Sophie Mackenzie, AdMore-Recruitment UK
Earlier this year, as we began our internal recruitment campaign. We decided to introduce Strengthscopeas part of our assessment process. Strengthscope is a psychometric tool which focuses on identifying what energises somebody at work. The thinking being that if people are given the opportunity to do things which energise them, they are more likely to perform well. By extrapolating this further and focusing on people's strengths (energisers) rather than their weaknesses, it is thought that there are greater returns to be had for both the individual's performance and that of the company. Weaknesses are not ignored (and Strengthscope provides a great vehicle for identifying 'strengths in overdrive' which can cause conflict and performance issues) however, focusing on Strengths tends to engender a more positive, energising dialogue between managers and individuals and amongst wider teams.
In addition to putting candidates through the assessment, we also tested existing team members who took part in the additional 360 element whereby your colleagues are asked to comment on the visibility of your Strengths in the workplace. This also identifies whether someone is 'over-using' a strength and therefore negatively impacting someone else.
Like any psychometric tool, this has been received in a variety of ways by the team, some overwhelmingly supportive, some ambivalent and some downright cynical. However, the positive nature of the tool has, I believe, made it more palatable, particularly now some people are beginning to see the benefits.
The 360 element is arguably the most uncomfortable part of the process as feedback is given anonymously and can highlight how an individual is having a negative impact. As the Accredited Strengths Practitioner, it is my responsibility to talk through the feedback with the individual and such is human nature that, without exception, they brush over the wealth of positive feedback from their colleagues and hone in on the bad stuff! However, this has produced some valuable results for some which I think will help reduce conflict and enable us to give more support to certain individuals.
For instance, one member of our team had a strength in overdrive and, although they were aware of it, hadn't fully realised the negative impact this was having on a couple of colleagues. Seeing this feedback in black and white, whilst uncomfortable, has resulted in them modifying their behaviour and approaching certain situations differently.
Another colleague has really struggled with controlling their emotions in response to setbacks at work and as a result of this analysis, we have facilitated a conversation with another team member who shares the same issue but who has found a successful mechanism for dealing with it.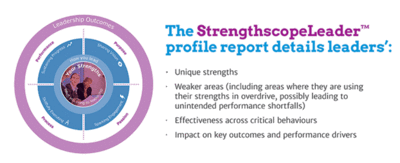 Significantly, our two Directors have been through the Strengthsleader analysis which has given them a detailed view of their own effectiveness and how they can be better at using their strengths. They have both found this challenging to go through, however, both are positive about the experience which has highlighted what they are most energised by and how they can further improve their leadership.
The biggest challenge we now face is how we move past the uncomfortable process of 360 feedback and focus on harnessing our collective and individual strength:
How do we ensure that we are talking about Strengths in team meetings and performance appraisals?
How do we make this mean more to our culture than simply a nice report which is filed away, never to be referred to again?
I'm not sure I have the answer yet! However the first step was to identify the Strengths we have as a team which we did in our recent team meeting.
Everyone brought their Strengths report along and worked with a colleague to share their Strengths. They then chose a 'stand-out' strength and we took mug-shots see below!
The next stage will be to continue this process to get people thinking about which of their colleagues are best placed to support them in certain areas, encourage people to use their colleagues' strengths and build effective project teams harnessing the specific strengths we need to deliver the best results.
All this will take time however we are confident that this is a good tool to help support our culture and to celebrate that we are a diverse team with a great range of Strengths.
Talent Tools can arrange for you, your team or organisation to experience Strengthscope. We provide the reports, facilitate in-house workshops and can even accredit you to do both of these yourself:) Call us to find out more 1800 768 569 or email us now.
Originally Published at http://www.more-insight.co.uk/2015/08/12/what-energises-you-at-work/ 12 August 2015

Author:
Sophie Mackenzie, AdMore-Recruitment UK
About: Working in recruitment is difficult whether in an agency or an in-house role and I strongly believe that recruiters on both sides of the fence have much to learn from each other, something I try to talk about in this blog. Retail is in my blood – I come from a long line of shopkeepers (and pub landlords!) so I think it's really important that, as a company who supports the industry, we do our bit to talk positively about the great things that are happening out there – an antidote to the doom and gloom if you like! - See more at: http://www.more-insight.co.uk/author/sophie/#sthash.FvDAkad3.dpuf